---
UNIVERSITY OF ZURICH
The University of Zurich (UZH, German: Universität Zürich), located in the city of Zürich, is the largest university in Switzerland, with over 26,000 students. It was founded in 1833 from the existing colleges of theology, law, medicine and a new faculty of philosophy.
Currently, the university has seven faculties: Philosophy, Human Medicine, Economic Sciences, Law, Mathematics and Natural Sciences, Theology and Veterinary Medicine. The university offers the widest range of subjects and courses of any Swiss higher education institution.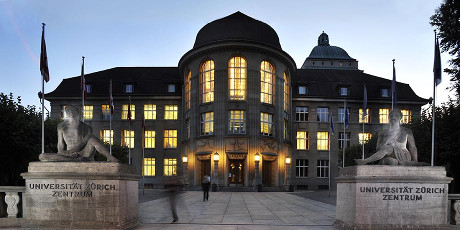 Campus
The university is scattered all over the city of Zurich. Members of the university can use several libraries, including the ETH-library, and the Zurich Central Library, with over 5 million volumes. In 1962, the faculty of science proposed to establish the Irchelpark campus on the Strickhofareal. The first stage the construction of the university buildings was begun in 1973, and the campus was inaugurated in 1979. The construction of the second stage lasted from 1978 to 1983. The campus also houses the anthropological museum Anthropologisches Museum, and the cantonal Staatsarchiv Zürich.
Language policy
Bachelor courses are taught in Swiss Standard German ("Hochdeutsch"), but use of English is increasing in many faculties. The only bachelors program taught entirely in English is the "English Language and Literature" program. All Master courses at the Faculty of Science are held in English. In some highly competitive and international programs, such as the Master of Science in Quantitative Finance, all lectures are held in English.
Student life
The university's Academic Sports Association (ASVZ) offers a wide range of sports facilities to students of the university.