---
UNIVERSITY OF NEUCHÂTEL
The University of Neuchâtel (UniNE) is a French-speaking university based in Neuchâtel, Switzerland. The university has four faculties (schools) and more than a dozen institutes, including arts and human sciences, natural sciences, law and economics. The Faculty of Arts and Human Sciences, with 2,000 students, is the largest school of those that comprise the University of Neuchâtel.
The university has an annual budget of CHF 120 million and an annual research fund of CHF 40 million. Approximately 4,000 students, including 500 PhD students attend the university, and more than 600 diplomas, licences, doctorates and certificates are awarded each year. The university has more than 1100 employees.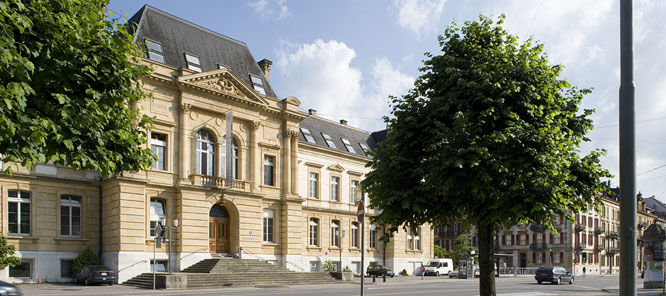 Faculties:
Faculty of Humanities:
The largest faculty has around 2000 students. Its fields of research and study are Ancient and Middle Age Languages and Civilizations, Archeology, Art History, English Language and Literature, French Language and Literature, Logic, Museology and Philosophy. In Social Sciences, the Center for the Understanding of Social Processes (Maison d'analyse des processus sociaux, MAPS) is made up of five institutes: Anthropology, Geography, Psychology and Education, Swiss Forum for Migration and Population Studies and Sociology. It fosters cooperative work on interdisciplinary research projects.
Faculty of Science:
The Faculty of Science numbers around 900 students. This faculty is active within different research domains, such as: Biology, Biogeosciences, Hydrogeology, Geothermal Science, Information Technology, Mathematics, Chemistry and Physics. It is the leading Swiss house for one of the National Centres of Competence in Research: Plant Survival.
Faculty of Law:
A faculty with 560 students which offers six orientations within the Master : Business Law, International and European Law, Public Law, Health and Biotechnology Law, Sports Law, Judiciary Professions. It has a 3rd cycle International master's degree with the SDA Bocconi University of Milan and the de Montfort University of Leicester, in collaboration with FIFA and counts many institutes, such as the Institute of Health Law (IDS) or the International Sport Science Center (CIES).
Faculty of Economics:
The Faculty of Economics has around 700 students. It offers a master's degree programs in many different fields: Financial Analysis, International Business Development, Public Economics, Public Politics and Management, Psychology of Labor and Organizations, Statistics, and Information Systems. Unique within Switzerland is the Academy of Journalism and Media: an integrated master's program, designed with professionals from the sector, focusing on the new needs of enterprise in the media world.
Faculty of Theology (until 2015):
A small, historic building, the seat of the prestigious Bibliothèque des Pasteurs, houses the Faculty of Theology. Neuchâtel offered a common master's degree in Theology, with the universities of Geneva and Lausanne. In 2015, the Faculty of Theology was closed; the teaching and research in theology will take place at the University of Geneva and the University of Lausanne.