---
UNIVERSITY OF GENEVA
The University of Geneva (French: Université de Genève) is a public research university located in Geneva, Switzerland. It was founded in 1559 by John Calvin as a theological seminary and law school. It remained focused on theology until the 17th century, when it became a center for Enlightenment scholarship. In 1873, it dropped its religious affiliations and became officially secular. Today, the university is the third largest university in Switzerland by number of students. In 2009, the University of Geneva celebrated the 450th anniversary of its founding. Almost 40% of the students come from foreign countries.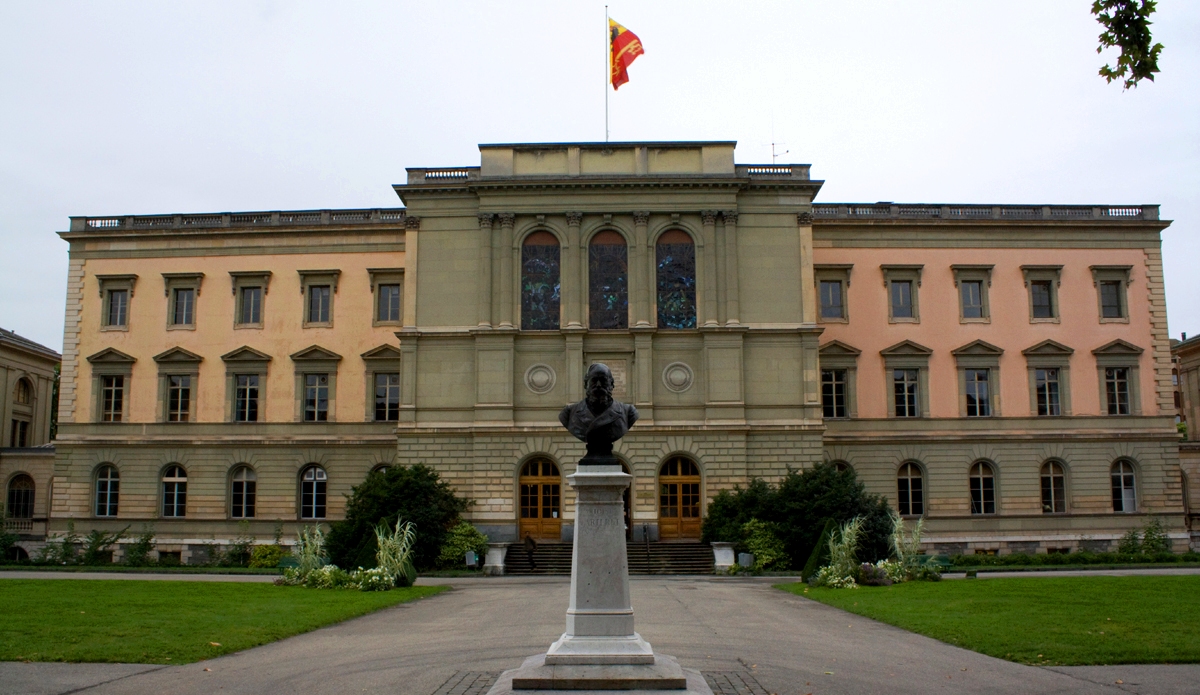 Faculties:
Faculty of Sciences
Faculty of Medicine
Faculty of Humanities
Faculty Geneva School of Economics and Management
Faculty Geneva School of Social Sciences
Faculty of Law (Geneva Law School)
Faculty of Protestant Theology
Faculty of Psychology and Education
Faculty of Translation and Interpreting
Interfaculty centers
The university is composed of fourteen interfacultary centers. Amongst others:
Institute for Reformation History (the Reformation)
Computer Science Department (computer science)
Institute for Environmental Sciences (energy policy)
The Global Studies Institute
Interfaculty Center of Gerontology (gerontology)
Swiss Center for Affective Sciences (affective science)
Associated institutions
The university has also several partnerships with the nearby institutions, where students at the university may take courses.
Graduate Institute of International and Development Studies (IHEID)
Bossey Ecumenical Institute
Wyss Center for Bio- and Neuro-engineering
Swiss National Supercomputing Centre
Art-Law Centre
Center for Biomedical Imaging(CIBM)
University Centre of Legal Medicine (CURML)
The Institute for Work and Health (IST)
Student body
In 2016, 16,530 students were studying at UNIGE, of whom 61% were female. 37% of the students were non-Swiss, originating from 151 countries. 4,449 teachers and collaborators, of whom 49% are female, are working for UNIGE.
Student life
Sports:
The Bureau des sports organizes all the sports related activity at UNIGE. Free sports lessons are given everyday and it suffices to show one's student card to access. Other lessons organization with the university's partners demand a small fee. UNIGE is home to the Geneva university championships in basketball, indoor football, rowing, badminton, outdoor football. The university also sends teams to the Swiss university championship in badminton, indoor football, skiing, basketball, fencing, football, golf, ice-hockey, table tennis and volleyball. UNIGE also provides special schedules for students wishing to pursue their high level sporting career and to study at the same time.
Associations
Alumni UNIGE is the alumni association of the University of Geneva, it offers a network of several thousand people to its members, as well as other advantages, such as discount prizes, special events, access to the official networking platform.Atout-lettres is the alumni association of the literature students of the University, founded in 1997. Its purpose is to prepare the professional insertion of the literature students, to establish links between literature student and the working world and to promote the formation given by the Faculté de Lettres.